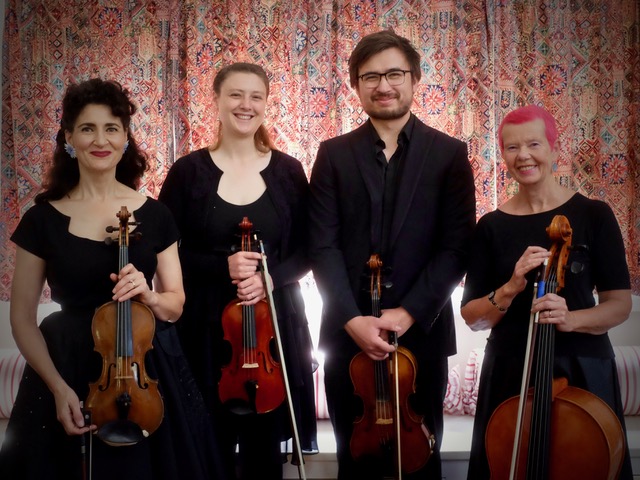 Kanimbla String Quartet
Welcome to the Kanimbla Quartet, a string quartet based in the Blue Mountains in Western Sydney. We enjoy performing a wide range of music, from classical repertoire to modern compositions, including local upcoming composers. Our goal is to support our community with music, through both collaboration with local orchestras and choirs, as well as featured performances.
For upcoming performances, please visit our concert information page or subscribe to our mailing list to receive email updates and news.
Kanimbla 2020
The quartet has had a busy time during 2019. In line with our commitment to bringing music to
the community we accompanied the Academy Singers for their Palm Sunday concert in
April, performing a movement of the string quartet by Arnold Trowell as well as a piece
composed by our 1st violinist Rebecca Daniel, for string quartet.
This was followed in May by our own quartet concert where we performed all of the Trowell
string quartet as well as Samuel Barber's string quartet and some more Rebecca Daniel!
June saw us in the recording studio where we were associate artists for a cd of music
composed by Rebecca Daniel and Fiona Joy Hawkins called The Lightness of Dark.
This has been well received and Rebecca and Fiona are touring in the US as we speak.
In August we accompanied the enlarged Phoenix choir under their conductor Rowen Fox for
the Mozart Requiem, and on Rebecca's return we will be preparing for our last concert of
the year on Sunday December the 8 th . This will be called Miniatures and will include some of
our favourite short repertoire.
2020 promises to be busy and fun. We are collaborating with recorder player Catherine
Weaver for our first concert on Sunday March 1st in the Blackheath Uniting church, where
all our quartet concerts will be held next year.
This will be followed on August 16th with a concert with renowned Shakuhachi master
Bronwyn Kirkpatrick.
Our last concert will be on November 15 th also at the Blackheath Uniting Church.
More program details to follow!
Our performances are normally held Blackheath Uniting Church, unless specified otherwise here on our website. For more details, please visit our concert information page.